Transgenders are making news these days. This weirds out many people. But am glad news is out. Change is constant. Get used to it. :)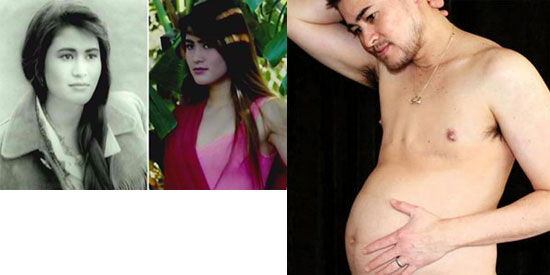 Thomas Beatie
The world's first known legal man to give birth, not once, but three times split from his wife of nine years.
He used to be Tracy Lagundino, born in Hawaii to a Filipino father and a Caucasian mother. He was once a Miss Teen Hawaii USA finalist so you can see how pretty she was. He is legally male after undergoing a sex change operation – but kept her female reproductive organs. Her partner can't conceive anymore so it was he who got pregnant for them. He made headlines in 2007 after pictures of his bearded face and pregnant belly became public.
Beatie, 38, revealed the breakup with Nancy during a taping of the syndicated TV show The Doctors in which he also said he had undergone a final female-to-male gender reassignment surgery.
"Nancy hasn't seen the new me yet," Beatie, 38, says.
"Like all marriages, we have our ups and downs, and we're going through a rough patch right now. At the moment, we're separated."
Nancy had two children from a previous relationship, but when she couldn't bear anymore, Beatie stepped in. He stopped taking his hormone medication and became fertilized through artificial insemination (using a sperm donor.)
Beatie had not had phalloplasty surgery, to create an artificial penis, and therefore was able to give birth.
By this stage Beatie had legally become recognized as a male, making him the world's first known man to give birth, the Global Post reported.
Beatie made headlines in 2008 when he had his first child. No one really understood how it was possible for him to give birth.
"I stopped taking my bimonthly testosterone injections," Beatie said. "It had been roughly eight years since I had my last menstrual cycle, so this wasn't a decision that I took lightly. My body regulated itself after about four months, and I didn't have to take any exogenous estrogen, progesterone, or fertility drugs to aid my pregnancy," Beatie told "The Advocate," during the time.
Beatie's three children, daughter Susan and sons Austin and Jensen, were all born between June 2008 and July 2010. "If Nancy could get pregnant, I wouldn't be doing this," Beatie told People Magazine. "Who hires a surrogate if they are perfectly capable of carrying their own child?"
But now, having spilt from wife Beatie has undergone the final stage of his surgery and will not be able to give birth in the future.
Before becoming a trans-sexual, Beatie was a model and finalist in Miss Hawaii Teen USA. He started to dress like a man in his 20s. His sex change has been gradual. First taking hormones and having his breasts removed, before undergoing sex reassignment surgery in 2012.
source
: various sites