I was overseas for a week, freezing my butt off while working. In an Asian country where lesbian couples freely roam the

busy streets, holding each other's hands. Where the first buddhist lesbian wedding took place.
When I came back Sunday afternoon, sweating the moment I landed the Philippine airport, I was greeted by the big gay news! Monique Wilson came out as a lesbian! Yey! But in the same breath also revealed that she has chronic blood cancer. I am greatly happy that Monique FINALLY made all those hush hush stuff official. But I am also saddened that she is ill.
STILL, it is worth celebrating that a well known Filipina theatre celebrity and a feminist at that, in no nonsense fashion came out. This is so Anderson Cooper.
I know so many news report already came out of Monique's coming out (paulit ulit? hehe). So let me just share the full interview transcript which I got a hold of from a press friend. :)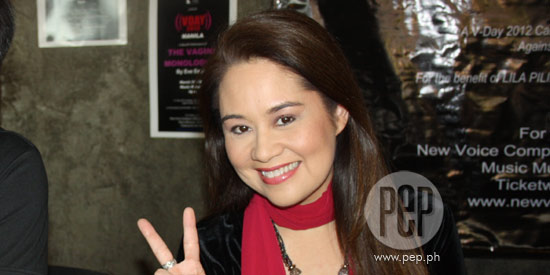 Monique Wilson
Promo of
one billion rising, strike, dance, rise. A streetdance on feb 14 2013 to stop violence against women.

Two years ago, may isang pangyayari sa akin, I was diagnosed with blood cancer two years ago, so until now i still have blood cancer. And in that moment two years ago inisip ko, you know what, life is so short it demands na we need to do something meaningful to our life hindi lang para sa sarili.
All the doubts and fear you have anything not just about my sexuality but even about my advocacies about my life choices parang it all became very clear parang ganun pala yun, when you face mortality or life and death experiences parang you get clarity.
So to me it's very important to break those silences and stigma because people need to love with freedom, dignity and respect.
Tungkol sa sexuality mo, never mo inamin.
You know I never said it kasi I always think naku that's going to be the issue even now ha, Promise me na one billion rising ito ha hahaha

To me naman, I never wanted to divert the issue from my theatre advocacy.
Iv'e always been out in my theatre work. And at the back of my head I used to think also hello lahat naman ng tao alam na, hello ako nagproduce ng Angels in America, kung ano anong shows na homosexuality in a time na nobody was producing it.
Ang assumption ko lahat naman ng tao alam na eh so bakit ko pa sasabihin? Until one day I realized the young ones, they're searching for mentors, guidance, they're searching for like positive role models who they can look at and say you know what I can be like that. I don't have to hide who I am and fight for who I am because there are other people who paved the way for me.
I've been in a relationship for 14 years. Taga dito siya pero didn't grow up here. Pinoy. In London we have a civil partnership na kasi London recognizes it so it's no big deal there. In fact all the rights are accorded to us na.
Kinasal na kayo?
Hindi naman, pero the visa situation is attached. Parang domestic partners. Kasi UK is very liberal. So to me it's accepted. Especially in theatre, my gosh, it's no big deal.
Maraming matutuwang mga lgbt group.
In fact sa gay pride I'll be giving a speech there and in fact hindi nga ako makaka-march kasi meron akong dalawang show na King and I. Pero ang promise ko after my King and I performance I will run to give a speech.
There are so many discriminatory things that go against us, that we are still fighting for, basic civil rights.
When did you know that you're gay?
My gosh, maybe when I was 18, 19. (Miss Saigon days) yah actually.
Anong reaction ng people sa paligid mo?
Wala lang. Kasi you know I grew up in repertoire eh halos lahat naman ng tao sa theatre is such an open culture so to me it was not a big deal and my family is also supportive.
Actually sa totoo lang it's so not a big deal to my family and friends that we never even talk about it.

Hahaha.
To them, as long as you're happy, that's the most important thing. And also I think yung fear naman palagi ng parents, oh they won't have children, ay if you're gay you can't have children but actually you can. You can adopt. To my family it wasn't really a big deal.
That's what made me feel even grateful, kasi my family was so supportive. We never even talked about it. There are so many others, gunigulpi sila ng parents.
So everyday my gratitude has been deepening. I've been so lucky in my life, even with my illness , even in London with all the medications, it's free. I've been lucky with my career to have gotten in Miss Saigon.
I'm 42 na now. It's really time to give back, and we shouldn't give back when were in our 70s, so kelangan it has to be now.
Alam din ni Lea Salonga?
Alam na niya from Miss Saigon days pa. Alam mo sa teatro, hindi namin pinaguusapan kasi siyempre you just socialize with each other, spend Christmases together, visit each other's house. And mababait din kasi theatre friends ko eh, na siyempre they're not naman gonna tell other people unless you want to say it yourself. It's not a big deal talaga.
How did you introduce your partner to Lea
I just say this is my partner, ganun lang. It's so simple and straight forward.
Anong feeling now you've come out in front of the camera?
I'm really happy. I just hope that it will not eclipse the one with the rising campaign promise because syempre that advocacy is so important to me but on that aspect I'm very happy.
I never lied, alam n'yo naman yun. I never denied it except that naku baka yun ng yun ang pagusapan hindi yung work.
The media, grabe ang Philippine media, saludo ako sa inyo. You just gave me so much respect that I now have to return it also to you and come out and thank you also for allowing me all the time and space to figure out who I am and also to keep doing my work without any obstructions.
Kamusta ang sakit mo?
I'm managing kasi what I have is a type of blood cancer that's chronic so you have it for all your life. So I take a chemo tablets each day. So wala pa syang cure, but if you manage it, you can extend your life or prolong it. Pero I have a lot of side effects.
It's part of my gratitude. Hindi ko na iko-complain pa yan 'cause to me I'm so lucky to be alive, to be well, to be on medication.
I got stronger nga when I got cancer kasi ang feeling ko why waste my life? I'm so lucky to be given this chance and also to be diagnosed of it early.
Message to Miss Saigon hopefuls
My message to them, you just have to work hard talaga. If you remember nakuha namin yung Miss Saigon pero 10 years kaming nasa Repertory Philippines group, so ilan taon din kaming naghone ng aming talents and skills.
So I'll tell all aspiring Miss Saigons, magtrain kayo, mag-singing lessons kayo, acting workshops. Kasi hindi biro ang Miss Saigon na show. It's very demanding, requires a lot of your stamina and discipline. Tough life. Siguro hindi naman sya glamorous. Tough life siya, nakakapagod siya.
But more than that, you should really love your craft and love the industry you're coming from. Kasi yun din ang awakening ng Miss Saigon eh. Kailangan kong maibalik sa Philippines ang natutunan ko dun.
I've been so lucky to work with the best of theatre people, so ang feeling ko I have to bring it back to the Philippines. So I hope that all who will be chosen in Miss Saigon will also not forget the Philippine theatre. Where they come from and come back and share what they learn there.
here's a
long online article
about Monique's coming out which you can also read.