The first-ever Drag King Workshop in the Philippines!!! - headline from GMA News.
Yey! Err, but what is drag king again?
Simply put, it is the opposite of drag queens, males dressing up in lavish/outlandish exaggerated female outfits.
This is the great oppotunity to bring out the butch in you i guess. :) If you're game, let's try this! :)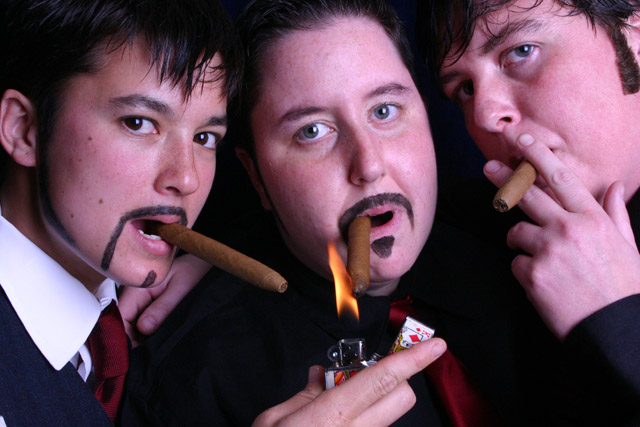 Drag kings are mostly female performance artists who dress in masculine drag and personify male gender stereotypes as part of their routine.
A typical show may incorporate dancing and singing, sometimes live or lip-synching to pre-recorded tracks. Drag kings often perform as exaggeratedly macho male characters, portray marginalized masculinities such as construction workers, rappers, or "fag drag," or they will impersonate male celebrities like Elvis Presley, Michael Jackson, and Tim McGraw. In the late 1800s and early 1900s several drag kings became British music hall stars, and British pantomime has preserved the tradition of women performing in male roles. Starting in the mid-1990s drag kings have begun to gain some of the fame and attention that drag queens have known. -
wikipedia
LeAP, Inc. in partnership with Dickie Jaxx presents "Packing Heat: Drag King Workshop," the first ever Drag King Workshop in the country!
Instructor: Dickie Jaxx
Date: June 30, 2012, Saturday
Time: 1:00 pm to 4:30pm
Venue: G/F FBR Arcade, Katipunan, QC.
Please send an email (to LeAPPhilippines@gmail.com) or a text (if a LeAP member posts a mobile number) so we can reserve slots for you. Please indicate your name and contact number. The event page is mainly for information dissemination and invites but we'd reserve slots for those who are seriously planning to go, and we track that via email/SMS registration. LIMITED SLOTS ONLY!
Fee: 200 Php
Please bring extra underwear, socks, eyeliner/mascara and any binding equipment (e.g. velcro binder, bandage wrap).
About Dickie Jaxx:
Dickie Jaxx has over 11 years of professional drag king experience, strutting his stuff on stages across the US, Canada, Europe, and Manila. He is the co-founder of the Cuntry Kings in Durham NC, the Citizen Kings in San Francisco CA, and the Daddy Kings in Asheville NC. Dickie is excited to share the transformative power of gender-dynamicperformance in order to envision and create a more just world on and off the stage.
Like LeAP, Inc. and Dickie Jaxx on Facebook and Twitter!
facebook.com/LeAPPhilippines
Twitter handle: LesbianActivism
facebook.com/DickieJaxx
Full length article on Drag King Workshop HERE