Good news for 2010! :-)
--------------------------------
New Hampshire now 5th state to allow same-sex marriage
January 1, 2010 -- Updated 1721 GMT (0121 HKT)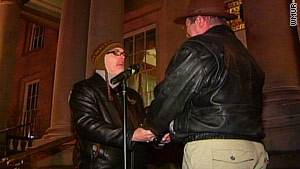 (CNN) -- After 19 years together Linda Murphy and Donna Swartwout tied the knot at 12:01 a.m. Friday, when New Hampshire's law legalizing same-sex marriage took effect.
They were among several couples early Friday who married under a full moon on the steps of the New Hampshire Statehouse in Concord.
At midnight, New Hampshire became the fifth state to allow same-sex couples to marry, joining Connecticut, Vermont, Massachusetts and Iowa.
The couple, who live in Hudson, New Hampshire, said they wanted to be married as soon as they could.
"We were thrilled and proud of New Hampshire ... it was a such a historic moment," Murphy said.
Swartwout said the marriage gives them "words and language that the rest of the world uses."
"When my nephew asks, 'Who's Linda?" I get to say, 'she's my wife,' " she said.
------
See article here:
cnn.com