i'm a tad sad by this. but they already have civil union at least.
i suggest you read the comments on the article in huffington. you will see very interesting arguments. here's a few i was able to chew on:
1. you can't marry your partner, but you can marry your first cousin in 27 states
see it
here
2. the bill is about regulating acceptable (norm) sexual behaviors
3. this is not about love, because truly, we can love anybody we want (just don't marry them). There are no rules limiting who loves whom and how.
4. what is the meaning of marriage in US anyway? Divorce is very common. Do we want to be associated with their definition of marriage?
5. Marriage is about a legal and societal norm.
6. Marriage is between one man and one woman. But bible shows stories of multiple partners. Bible didn't have annulment and divorce, so I think we have long deviated from the bible yet we keep using it as source for argument.
7. 19 different Christian clergymen came forward in support of same-sex marriage in NJ. That's grand for me.
8. A battle is lost; the war goes on. - Leland R. Erickson
=======================
New Jersey Gay Marriage Bill Fails To Pass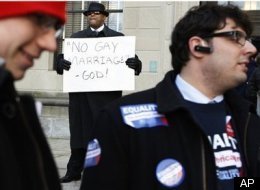 | 01/ 7/10 05:00 PM |AP
-----------------------
TRENTON, N.J. — New Jersey's state Senate has defeated a bill to legalize gay marriage, leaving it unlikely the state will have a gay marriage law in the very near future.

The bill needed 21 votes to pass; only 14 senators approved the measure Thursday.

Gay rights advocates had pushed hard to get the bill passed before Jan. 19, when Republican Chris Christie becomes governor. Democratic Gov. Jon Corzine promised to sign the bill if approved by the Legislature but Christie has said he would veto it.

New Jersey offers civil unions that grant the legal rights of marriage to gay couples. Five states – Connecticut, Iowa, Massachusetts, New Hampshire, and Vermont – allow gay marriage.

source: The Huffington Post