now that i've let it out of my system, i'm happy to share that the two friends whom i still care about already apologized. =) we aired our sides, said sorry. done. now moving on to a more interesting part, the supposed threesome invite. i'll just post it verbatim.

girl: hi fire! i'm a huge fan.. i was wondering if you could meet up with me and my friend sometime? hang out lang.. firewomyn: sure! basta treat nyo ko ha. hehe.

girl

: haha bukas, pwede ka? firewomyn: hindi naman kayo nagmamadali no? hehe. can't tom. next Sat works for me. at ndi mo pa kinoconfirm kung treat mo ko ha. girl: can we get your contact number? firewomyn: no. we have to communicate thru mental telepathy. hehe, just email me. and am kinda dubious abt this "we" **ym msg from someone i don't know received on my phone**
bigboy:

hi. this is ___, girl's friend.

haha :)


firewomyn: you're a man? *was thinking could be a butch* bigboy:

yeah, last i checked. haha


firewomyn: i am lesbian. *i think this is the first time i said that line to anybody* bigboy:

err.. *pause* okay

, i don't really know how to say this.. *pause* but girl and i were talking about getting another girl to join us, and she said her local celeb crush was you. *msg cut*



**twas late night and was tired, so didn't reply anymore. the next day - **
firewomyn: your msg was cut. join you on what? bigboy:

uh join us for a ... tryst. but i realize now medyo offensive so i'm super sorry. forget we said anything.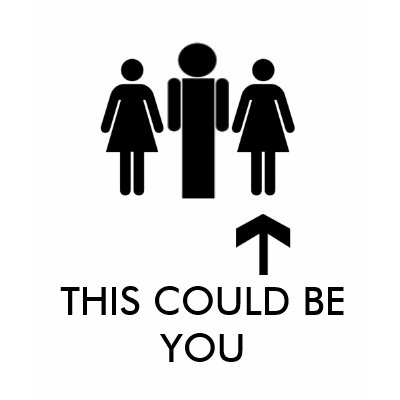 #######
i know i've been mentioning it here that my ultimate fantasy is a threesome. i thought the specifics were obvious, so i should have provided that very minor detail that my fantasy is a threesome with two other women. no penis involved please.
the proposal was at first interesting *because it was the girl who asked first*, then shocking *because the boy got in the picture. i mean what part of the word lesbian in my blog header is unclear?*, then interesting again *haha. the shock wore off*
, then bitin *they didn't even wait for my answer!*
, and then funny *hey, it's not everyday you get to be invited for a "tryst with what seems to be a hetero couple*
. and of course i won't let it slip that the girl (whom i am imagining is hot) categorized me as a "local celeb". naksnaman!
hay, ansaya ng buhay. may drama, may erotica, may comedy. okay na yan, wag na pong dagdagan ng horror pls.
hehe
=)